Skip to Content
Elite Body & Med Spa's Dermaplaning Treatment
If you're looking to combat acne, a dull complexion, or uneven texture, regularly exfoliating the skin at home may not be enough to eliminate contributing factors to your skin problems. Fortunately, Elite Body & Med Spa offers dermaplaning, a renowned exfoliation treatment that effectively combats skin concerns in a non-invasive, non-surgical manner.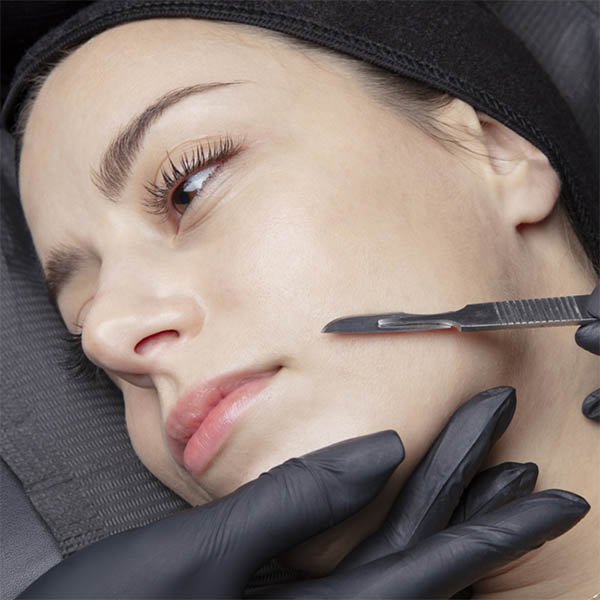 Understanding Dermaplaning Treatment
Dermaplaning is a gentle exfoliation treatment that works to remove superficial dead skin cells and vellus hair (peach fuzz). This process involves an esthetician-grade, sterile blade that is stroked along the skin at an angle to gently remove the dead skin cells and fine hair from the epidermis, leaving a smooth surface.
The Benefits of Dermaplaning
Dermaplaning is a non-invasive way of achieving your best skin. Some of the benefits associated with dermaplaning include:
Glowing, youthful skin
Enhanced circulation
Removes fine hairs
Improved absorption of skin care products
Suitable for pregnant women who cannot undergo other treatments
Can be combined with additional treatments
Combining Dermaplaning with Other Treatments
Some patients may choose to take advantage of the state of their rejuvenated skin post-dermaplaning and pursue additional treatments. As the skin is more supple and free of any dead skin, it has the ability to absorb products and treatments more efficiently, making it the ideal time to get a chemical peel or microneedling treatment to further enhance the quality of the skin.
Risks Associated with Dermaplaning
Dermaplaning is non-surgical and non-invasive, leaving very little room for risks. Patients with sensitive skin may have a reaction to the cleaning solution or experience a dry or red reaction post-treatment. These side effects are minor and will resolve within 24 hours. However, if you have any allergies, it's essential to alert the staff at Elite Body & Med Spa prior to treatment.
Suitable Candidates for Dermaplaning
Dermaplaning is an inclusive treatment opportunity, as it is suitable for nearly all people. Unlike chemical peels, pregnant or lactating women are not restricted when it comes to dermaplaning and can safely pursue treatment without any risks. However, patients who suffer from pustular acne or experience excess oil should consult our staff about dermaplaning treatments, as it can result in bacteria growth and further acne breakouts.
Choose Johnstown, CO's Reputable Skin Care Professionals
Your skin is precious and should only be handled by experienced, caring professionals, such as the experts at Elite Body & Med Spa. As a doctor-led practice, we offer only the most effective and advanced skincare technologies and treatments, performed with the utmost precision and expertise to ensure your skin looks and feels its best.
Let's Discuss Your Dermaplaning Treatment
If you're ready to experience your best skin, Elite Body & Med Spa is here to accommodate you with industry-leading dermaplaning facial treatment. Contact our knowledgeable professionals today to schedule your complimentary consultation and discover how we can enhance your natural beauty with our non-invasive treatments.
Schedule a Complimentary Consultation Today