Skip to Content
Facial & Chemical Peels in Colorado
At Elite Body and Med Spa, we offer facials and chemical peels that are customized to each client's skin type and concerns. Whether you have severe acne, hyperpigmentation, signs of aging, sensitized or rosacea skin, our facials can help minimize these concerns and extend the results of your laser and skin tightening treatments. Our staff will share their knowledge about how to use home care to maintain and improve your skin by giving it the nutrients, retinol, AHA, and BHA-rich products that will increase cell turnover, hydrate, brighten and deep cleanse your skin.

Facials
Choose from our standard or extended facial routines — 60 minutes (8 steps including facial massage) or 75 minutes (8 steps plus an extended massage for face, neck, shoulders, and arms). The facials can all be modified to meet your needs and may include colloidal silver, high frequency, essential oils and more.
NOTE: all times include 10 minutes for changing.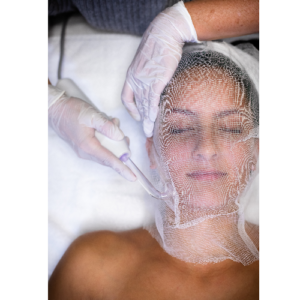 Anti-Aging
Designed specifically to strengthen skin structure integrity and hydrate to support the visible improvement in skin elasticity and firmness; tightens and firms aging skin, improves the appearance of sagging skin, loss of contour + elasticity.
Redness & Sensitivity
Relieves visible signs and symptoms associated with red, sensitized skin issues such as mild rosacea and reactive sensitive skin.
Skin Brightening
Targets pigment-related issues to help address dark patches and uneven skin tone.
Ultra Hydration
Provides soothing, cooling, and calming comfort to dry, dehydrated, and weak skin.
Acne & Oil Control
Treatment helps to clear skin and prevent breakouts due to adult or teen acne and moderate to severe rosacea.
Chemical Peels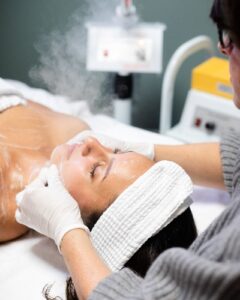 Stimulator Peel
A must for skin that feels rough or looks dull. Features a new, unique combination of exfoliating ingredients to renew and revive skin. This 30-minute session, with no downtime, is the ultimate results-oriented treatment. Excellent for the day before a big event.
INVISAPEEL™ Resurfacing
Gentle exfoliation immediately revives dull-looking skin, replenishes skin moisture, and minimizes the appearance of discoloration promoting a more even skin tone. This no-downtime, resurfacing treatment works for all skin types, even sensitive and weak skin.
3-STEP PEEL®
Epidermal renewal and dermal stimulation peel addresses melisma, hyperpigmentation, rough texture, wrinkles, and large pores. Supports skin barrier function, improves skin's ability to repair and renew itself, and also provides antioxidant protection, DNA repair, and anti-inflammation benefits.
NOTE: 3-Step Peel requires pre-treatment, protocol must be followed for 4-6 weeks prior to the treatment to prepare the skin for the peel. Your Aesthetician will discuss this with you in your consultation. Peel depth can be tailored to the patient's tolerance.
Schedule a Complimentary Consultation Today